Welcome to the first edition of Full Fabric Friday here at The District — today it's also the Modern Marks Blog Hop, featuring Christa Watson's new line Modern Marks for Benartex!
The Project – Churned Up with Modern Marks
When Christa offered me the opportunity to work with her debut line full of vibrant, saturated color and groovy prints, I knew immediately what I wanted to do with it. Immediately. I had been playing around with the concept of a deconstructed, tossed-up churn dash block for a few months, but hadn't quite settled on a design. Modern Marks came along and it just clicked — Churned Up came together and all those bits fell into place. I love how it turned out with all that color!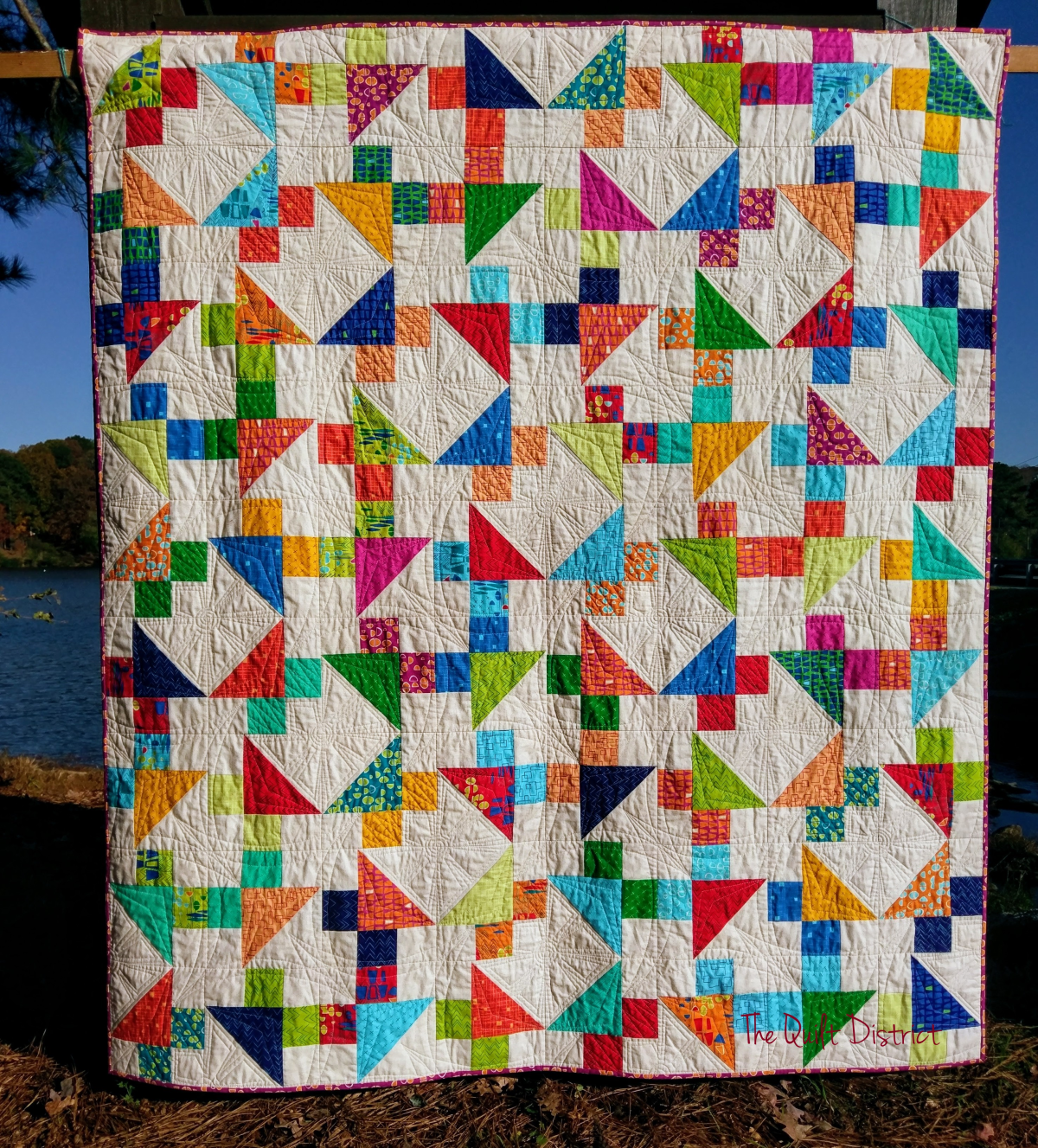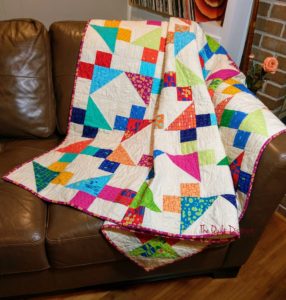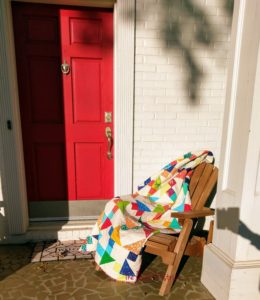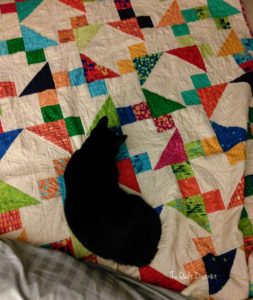 The FABRIC!
Y'all, this fabric feels wonderful. So wonderful, in fact, that I have been sleeping with and cuddling with my finished quilt for a couple of weeks now without washing it first! I always give my quilts a wash after they're finished, but this one is just so soft already that I might not for a long, long time. This was the first time I'd worked with Benartex fabrics exclusively on a quilt top, and I very much look forward to doing it again. I've worked with a lot of fabric lines, and this one is definitely in the top of its class.
And now, I have a confession: I have a favorite. My favorite print and colorway is the Half Ovals in Fuchsia. *swoon* She had me at pink and orange together. I bound Churned Up in it, and you can bet you'll see it again in another quilt I make. The ideas are already swarming around.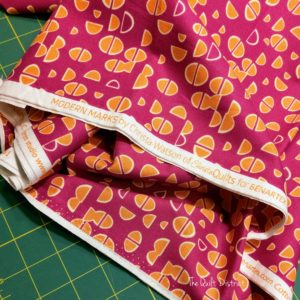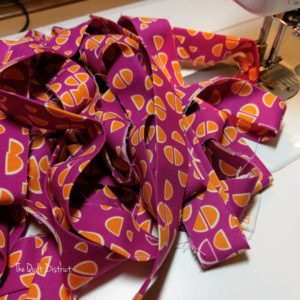 Which is your favorite? Seriously. If you love color and crisp, fresh prints, you are going to lose it over this line when you get it in person.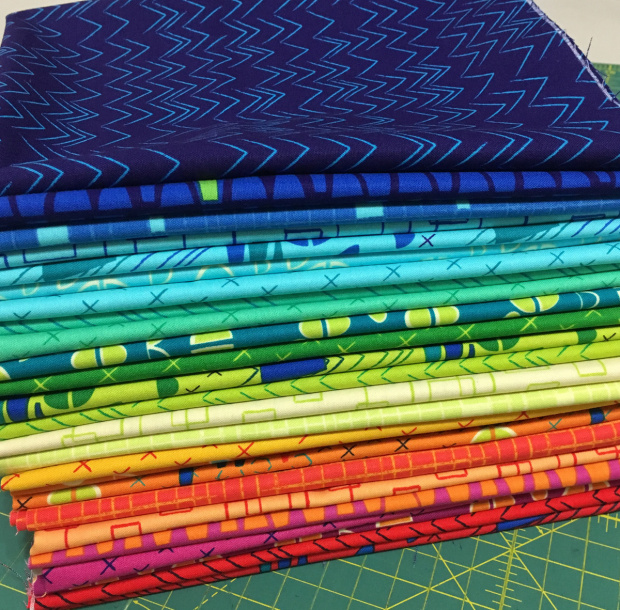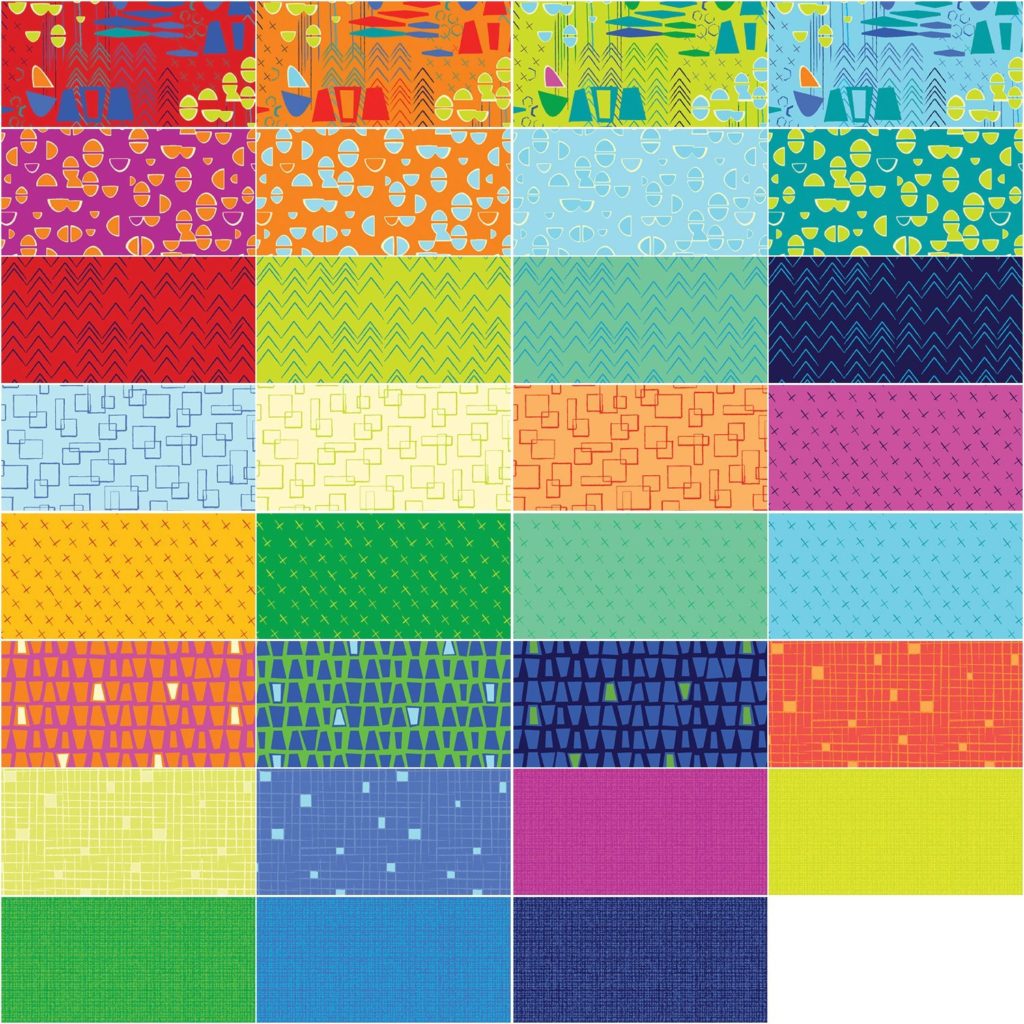 Where to Buy
I picked up this list from Christa's site, because I know you'll want to get your hands on Modern Marks! You can also request your local quilt shop carry it!
And now for the giveaway details! Benartex is generously giving away a fat quarter bundle of 8-10 prints here at The Quilt District (and all the other 10 stops in the hop).
To enter, simply comment on this post and leave your email address (your address will not be displayed, but I'll need it to contact you), and have a US address where Benartex can send your bundle.
And an EXTRA Giveaway!
To enter to win a free copy of Churned Up plus a pack of 10x10s of Modern Marks on Instagram:
If you're new to me on IG, follow me there between now and 11:59 pm on Wednesday, December 6th. If you already follow me there, comment on today's IG Blog Hop post and tag a friend! (US only)
All entries must be received by 11:59 pm EST, Wednesday, December 6, 2017.
The winners will be selected using a random generator and announced on Thursday the 7th.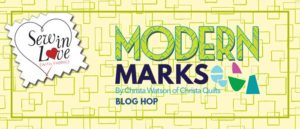 If you haven't already, make sure you pop in and visit each of the ladies on the hop — they have all made some beautiful things with Modern Marks!
Monday
Jen @Patterns by Jen
HollyAnne @String & Story
Tuesday
Kristin @Simple. Handmade. Everyday.
Yvonne @Quilting Jetgirl
Vicki @My Creative Corner3
Wednesday
Hilary @Aurifil
Pam @The Stitch TV Show
Thursday
Heather @Quiltachusetts
Andrea @3rd Story Workshop
Friday
HERE @The Quilt District
Stephanie @Modern Sewciety
Happy Quilting!
~~ Tara
~~ With Gratitude ~~
First, I want to thank Christa for the opportunity to work with her and with Benartex. You made my year, Christa.
Second, HUGE thanks to my dear friend Jennifer Digiovanni, who proofed and tested her heart out. She rocks!
Third, this is the first quilt I have ever made that I did not quilt myself. (I know, somewhat blasphemous given Christa is the Queen of Quilting on the domestic machine!) I just didn't have the time to do it justice. It needed to shine, and Kathy Nesler really made that happen. She gave this quilt beautiful movement!
And, last but not least, to my husband (should we call him Mr. District?) for wrestling with the quilt at the park on photo day!