Here we are on the second installment of the Border Quilt Quilt Along hosted by Jen Shaffer of Patterns by Jen: the checkered borders and first few background borders.
I like to prove you can screw something up and make something beautiful out of it anyway. Let's be honest: that's half the battle of winning at life in general.
I made my applique center too large, so my 1st border on my Border Quilt is really a half border (top and bottom only). And I am totally fine with it. In fact, I love it.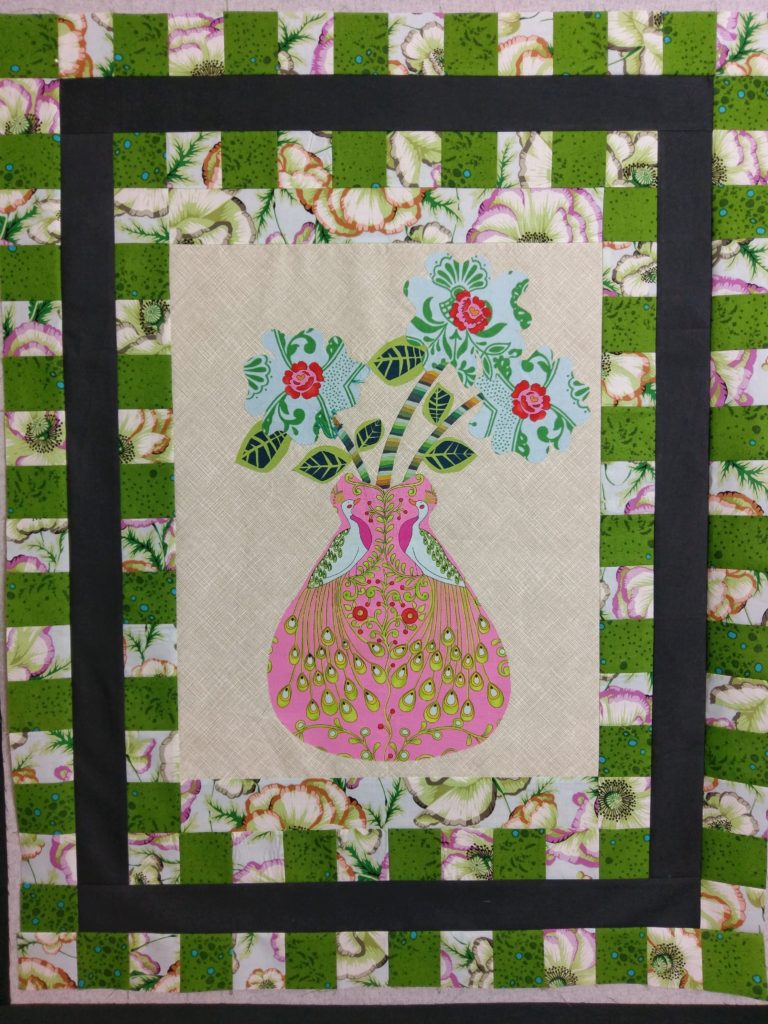 I can already tell I'm going to be madly in love with this quilt when it's finished. I have visions of hand quilting it… making it my slow project for next year while all the rest of the crazy spins around me. Some winter movie watching and a needle. Oh, can I go there now, please?
Be sure to pop over to visit the other bloggers sewing along with us. It's really fun to see how different this quilt can look!
In other news…
Seth Hackler, fearless leader of the Facebook group Quilting on a Budget has kicked off the sew along for my Churned Up pattern! Members of that group have access to a 40% off coupon code for the pattern. You'll find it pinned in the announcements in the group.
I'll be in Bethesda, Maryland next week attending my first American Quilt Study Group Seminar. I am BEYOND excited to be in the same rooms with some of our finest quilt scholars and historians. My whole life has led me to this. You know when you find that thing? This is mine.
Upcoming Events
I'm speaking at the 7:00 pm Cherokee Rose Quilters Guild meeting at Sutton Hall in Douglasville, Georgia on Thursday, November 15th. I'd love to see you there! The theme of my trunk show and talk is Quilting with the Fire of My Foremothers. Doors open at 6:30.
Catch me hanging out in the Just Wanna Quilt booth at Quilt Festival Houston in November! If you're attending Festival, tap me on the shoulder and say hello!
xoxo,
~ Tara