Available for guilds, quilt shows, and all your quilty events!
Email me at quiltdistrict@gmail.com.
Graphic Quilts of the 20th Century
VIRTUAL or In-Person (1 hour) – $300 in-person, $200 virtual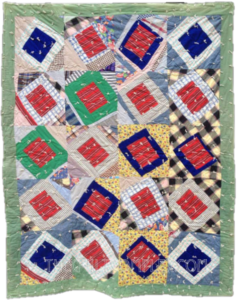 This presentation is packed with graphic, visually stunning quilts from the whole of the 20th century. Many of these have a surprisingly modern aesthetic! Throughout the conversation, we'll put these quilts in context: historically, socially, artistically. We'll explore some of our connections with the past that inform us, inspire us, and drive us in the art and practice of quilt making today.
"I wanted to thank you for your thoughtful presentation yesterday.  I learned a great deal and it is interesting how you linked women's lives to the art of the quilt." ~ Caroline – Moraine Quilt Guild, Ontario, Canada
"Thank you for the moving, informative, and inspiring presentation! (My husband was sitting next to me listening, he said, 'she is interesting and good!!!!')"  ~ Pam – Portland Modern Quilt Guild, Portland, Oregon
"Such an amazing talk. Thanks for hanging out with us!" ~ Michelle – Portland Modern Quilt Guild, Portland, Oregon

Quilting with the Fire of My Foremothers
Trunk Show & Talk (1 hour) – $300 in-person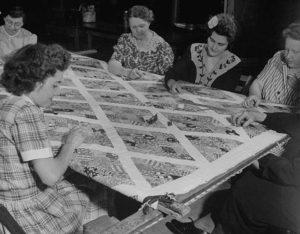 This one-hour lecture and trunk show examines and celebrates the quilting legacy we carry from our foremothers (whether your immediate foremothers were quilters or not). I'll share my journey and my passion for finding our connection to what came before us–putting our current quilt journeys in context. We'll look at antique and vintage quilts with an eye for the clues about when they were made, how they were made, and what we can try to learn about the women who made them. We'll talk about the forces that were at work in quilt pattern and quilt fabrics for these women, with a concentration on late 19th and early- to mid-20th century.
"You are so dynamic!" ~ Leigh Ann – Atlanta Modern Quilt Guild, Georgia
"We enjoyed you SO much !! Thank you for the informative talk and showing your beautiful quilts." ~ Sandy in Douglasville, Georgia

Fan Girl: A Crazy Lady
Workshop: 4 hours – $350; 6 hours – $525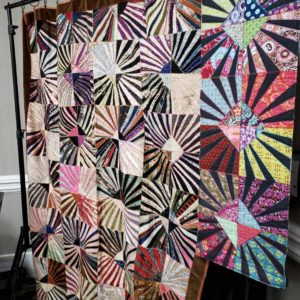 With a circa 1910 crazy quilt as our inspiration, we'll make fan blocks using simple, quick, and fun methods. Students can use decorative or straight stitches on their machine to create this quilt. I'll show students how to use the simple herringbone embroidery stitch to add an additional layer of design to the straight-stitch applique. This workshop is great for the confident beginner, but is also loads of fun for experienced piecemakers. The result is a bold and graphic desgin! (Pattern has fabric requirements for a pillow front, table runner, and quilt.)
"I've never liked something I've made in a class as much as I like this! I love it!" ~ Julie R.

The Evie
Workshop: 4 hours – $350; 6 hours – $450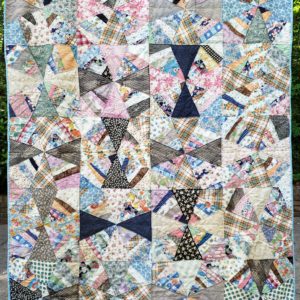 We'll take inspiration from a vintage quilted coverlet made by Eveler Blankenship in Kansas in 1970. These scrappy string kaleidoscope blocks are fun to make and go together quickly. Use up your scraps or cut up assorted fat quarters–it's up to you! No specialty rulers needed, either!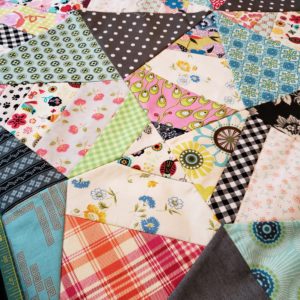 "It was a great class!" ~ Crystal in Roswell, Georgia
"Lots of fun!" ~ Pat in Stockbridge, Georgia

Churned Up
Workshop: 4 hours – $350; 6 hours – $525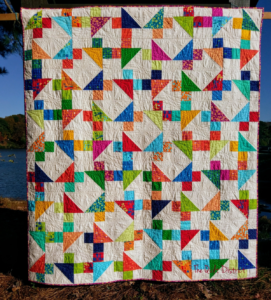 Churned Up is a modern take on the classic Churn Dash block — kinda what I imagine happens if you put the Churn Dash in a blender and toss it up! Works great with a layer cake, but students can certainly also start with 10″ squares from their stash! This is a fun pattern to showcase some of your favorite fabrics — from reproduction to holiday to ultra modern.

Diamond Lane
Workshop: 4 hours – $400; 6 hours – $600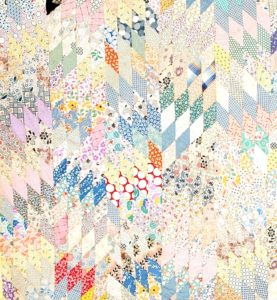 With a vintage quilt as our inspiration, we'll make a diamonds quilt using strips! This is a technique class–we'll demystify diagonal piecing. This workshop is geared toward the confident beginner or intermediate quilter. Students use strips from their stash or a jelly roll. Make a little or a lot!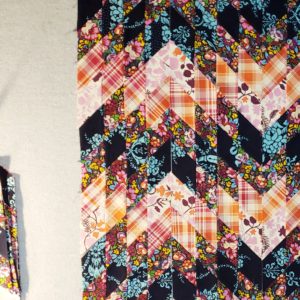 "…thanks so much for your class, it was spot on what I needed to learn to tackle this application." ~ Mikki in Smyrna, Georgia

Travel and Deposit Policies
For driveable bookings, a standard charge per mile applies. I use the IRS mileage rate for the year for which the engagement is contracted.  Driveable events 75 miles or more from my home address require at least one overnight stay, depending on the type of booking. Events requiring air transportation are considered and handled on a case-by-case basis. All events require a $100 deposit to secure the date.