---
About a year ago I started noticing a theme emerging in my life. I was embarking on another new era. This one is about the LIBERATION OF SPIRIT.
So when I saw this pattern for Freedom in Sherri Noel's new book Text It!, I knew immediately that was the one I had to make. I knew I had to make it fiery. After a few days, I knew it had to be RED (even though the pattern calls for a light background). I knew the sassy Bridgette print in Jennifer Paganelli's St. John fabric would be an integral part of this quilt (and a star!). That face, that hair! She embodies the FREEDOM of this piece.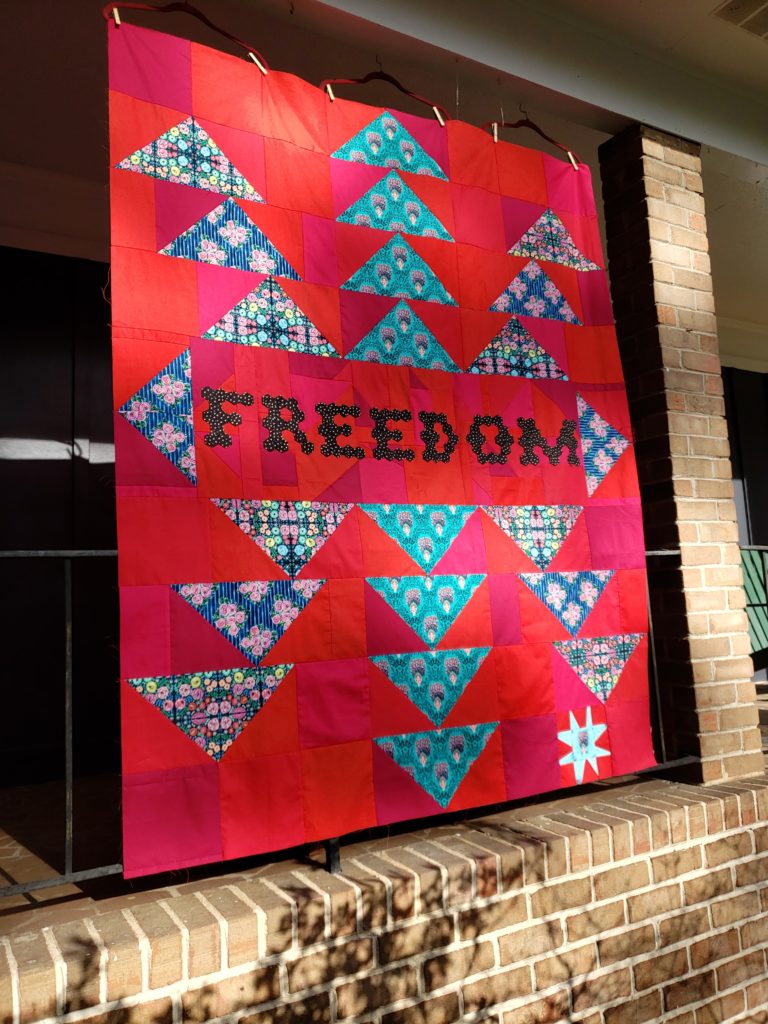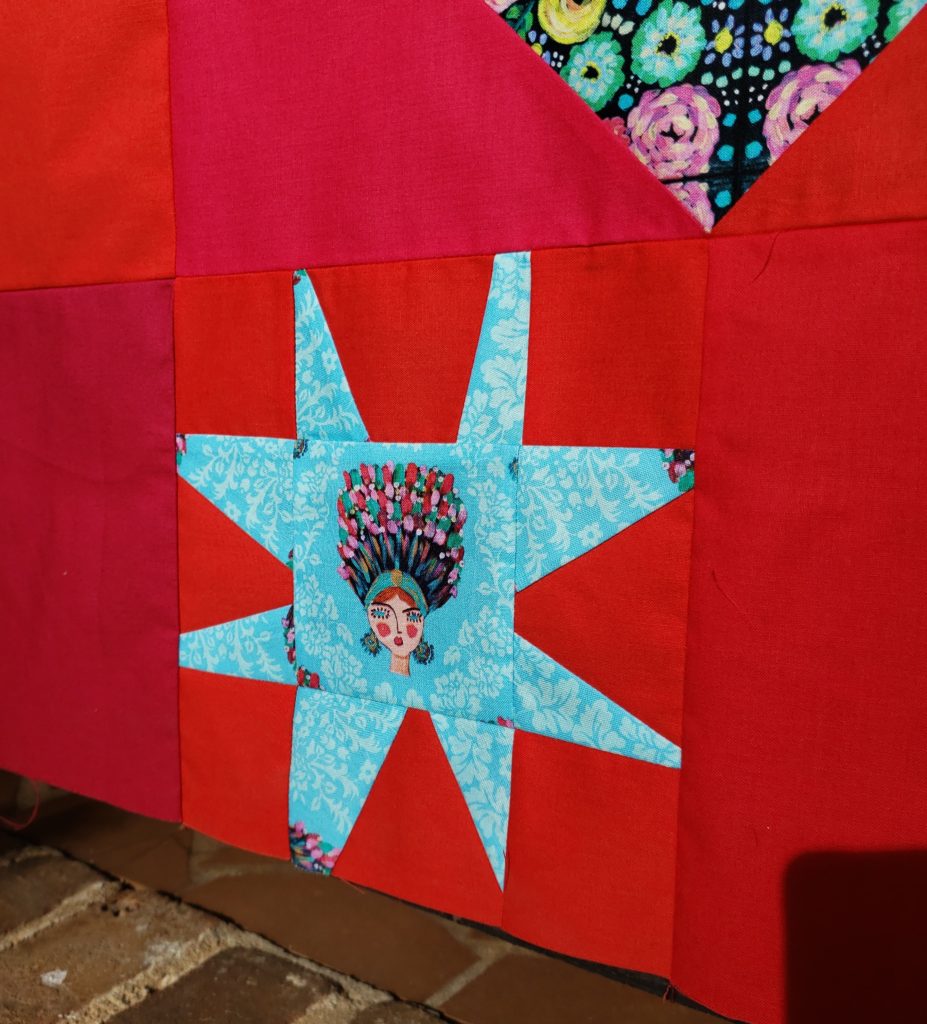 Making this one really made me feel free. Those massive flying geese! Flying FREE! The scrumptous florals scrumptous florals are also St. John by Jennifer Paganelli
.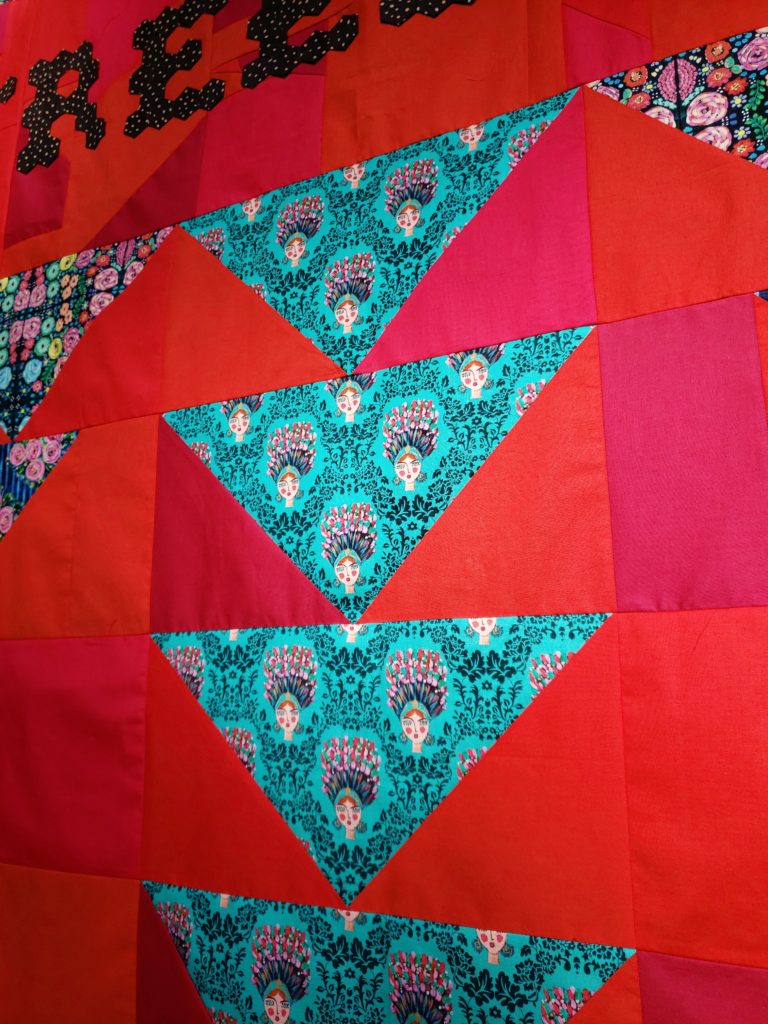 What I didn't expect was that I'd piece the center banner. I had a solid pink fabric I had planned to use there, but in the end, it didn't work. So, feeling the freedom, I went all out and improved the banner with leftover bits from the background. Then I added two more free-flying geese on the sides! Because why not!?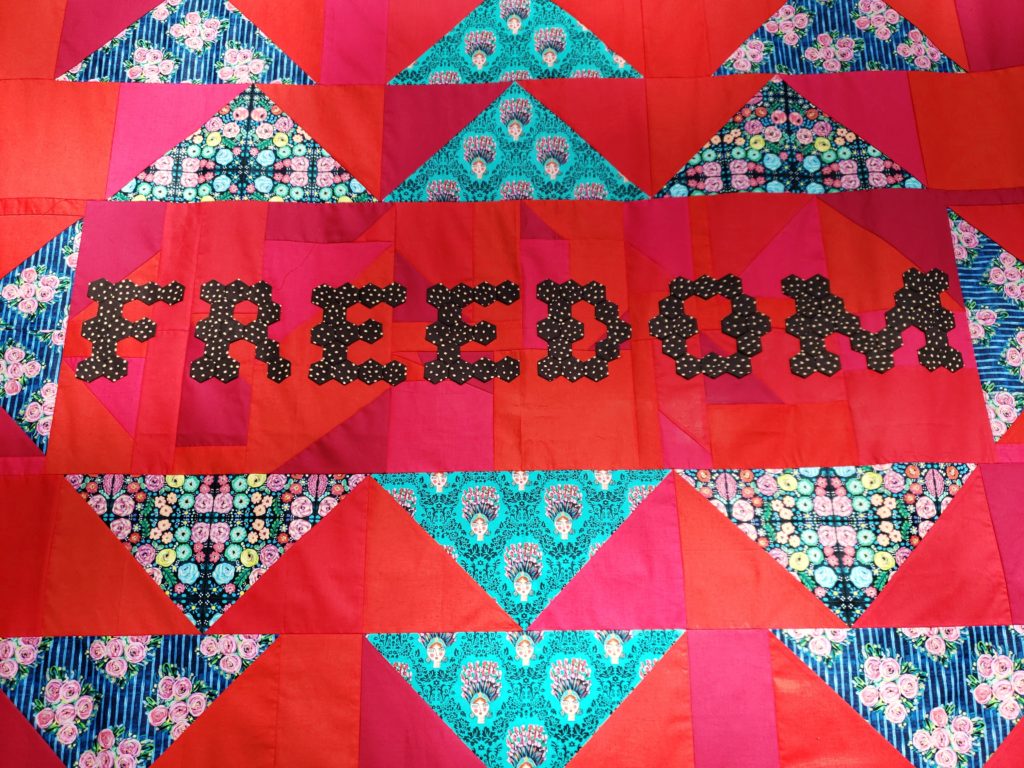 I did go ahead and sew together the hexagons, but I used some fusible tape to affix the letters to the banner because I knew I wouldn't get to sewing them down in the next week or two. I think I'll use some perle cotton to blanket stitch them down. What do you think?
Check out more projects from the book!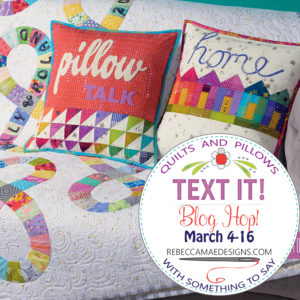 MONDAY MARCH 4 – BEE HAPPY
PAMELA JANE MORGAN –MYSWEETLITTLESTITCHES        
SHARON LILABELLE LANE – LILABELLELANECREATIONS
TUESDAY MARCH 5 – INFINITY Quilt
LAURA PILAND – SLICEOFPIQUILTS
LEANNE PARSONS – DEVOTEDQUILTER
KATIE MUTER STARCHER – KATIEMAEQUILTS
WEDNESDAY MARCH 6 – PILLOW TALK
KATE COLLERAN – SEAMSLIKEADREAM
CHERYL DAINES BROWN – QUILTERCHIC
DORIE HRUSKA – FOREVER-QUILTING
THURSDAY MARCH 7 – FREEDOM Quilt
JEN SHAFFER – PATTERNSBYJEN
TARA MILLER – QUILTDISTRICT
LYNN KANE – PUPPYGIRLDESIGNS
FRIDAY MARCH 8 – LOVING YOU Wall Hanging
ELLEN AULT –HANDMADE3D
SHERRI NOEL – REBECCAMAEDESIGNS
MONDAY MARCH 11 – COUNTING SHEEP Baby Quilt
DEANNE EISENMAN – SNUGGLESQUILTS
RAEWYN BARGE – STITCHINGFARMGIRL
SUSAN PELLAND – SUEPELLANDDESIGNS
TUESDAY MARCH 12 – HOME PILLOW
JOANNE HARRIS – QUILTSBYJOANNE
PATTY DUDEK – ELMSTREETQUILTS
ANDY KNOWLTON – ABRIGHTCORNER
SANDRA STARLEY – UTAHQUILTAPPRAISER
CINDY PIETERS – STITCHINATHOME
WEDNESDAY MARCH 13 – LIFE IS SHORT Wall hanging
BECCA FENSTERMAKER – PRETTYPINEY
KATIE BOCK – SEWINGWITHKATIE
ALLA BLANCA – RAINBOWSBUNNIESCUPCAKES
THURSDAY MARCH 14 – HUSTLE PILLOW
TERRI BANDEN BOSCH – MEANDERINGSALONGLIZARDCREEK
WILLOW OLSON – BEARPAWDESIGNBLOG
ERIN SAMPSON – AURIBUZZ
FRIDAY MARCH 15 – SEWING MACHINE MAT
LAUREN WRIGHT – MOLLYANDMAMA
SANDRA HEALY – SANDRAHEALYDESIGNS
CHERYL KRISEL LYNCH –CHERYLLYNCHQUILTS
SATURDAY MARCH 16 – WRAP UP
SHERRI NOEL – REBECCAMAEDESIGNS
Giveaways – I have TWO!
Giveaways are open to US residents, only. Thank you for understanding.
Martingale has offered each of us on the hop a hard copy of Sherri's book to give away! To enter, just leave me a comment below and let me know how you think I should quilt this! I'll pick a winner using a random number generator on Friday, March 15th.
For a chance to win 2 large spools of Aurifil thread , leave me a comment on my Instagram post (the one dated 3/7/19 about this quilt).
Let your Freedom ring.
xoxo,
Tara