If you already follow me here on the blog, you're probably thinking I fell asleep while binding and was smothered by a quilt. I mean, it has been over a month since I've posted. And we know how dangerous quilting can be. Gangsta dangerous.
Most of what I post is still over on Instagram, but here I am this week with a virtual army of quilt bloggers for the 2018 New Quilt Bloggers Blog Hop hosted by Jen @ Dizzy Quilter, Beth @ Cooking Up Quilts, Sandra @ mmm!quilts, and Tish @ Tish's Adventures in Wonderland.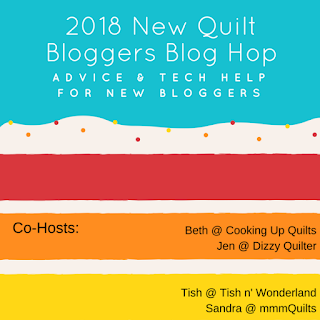 These organized blog wonder women sorted us blog newbies into hives, and (don't be jealous, y'all) the one I'm in (led by Jen) has the coolest name: Quilt, Blog, Repeat. Nailed it. Our own lovely Becca @ Pretty Piney made our killer graphic.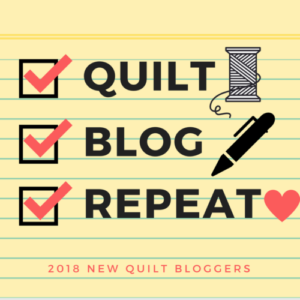 The Quilt, Blog, Repeat Weeks 1 and 2 were a big hit with Jan @ Cocoa Quilts, Michelle @ Creative Blonde, Nicole @ Handwrought Quilts, and Becca @ Pretty Piney
Roseanne @ Home Sewn by Us and I are heading up Week 3 for this hive, but you'll also want to check out the other hives in the lineup (and next week, be sure to visit Karen @ The Quilt Rambler and Sarah @ 9658 Textiles). There is a TON of quiltiness happenin' on this hop! Don't forget to enter the star-studded giveaway on the hosts' blogs!! Woot! Free swag!
A bit about Tara at The Quilt District…
I learned how to quilt in early 2014 on YouTube. My husband and I began to call it my Quilt Porn. I watched everything I could get my hands on. I'd watch even the clips or full shows that I thought, on first glance, I might not like or need—maybe I'd already seen a pineapple block made or this clip was from the 80s and it might be tired. I still watched. Thank God I did! I learned something each time that made me a better quilter. Every. Single. Time.
You can see a few examples of my work here on my Gallery page.
Fast forward 4 years and I'm designing quilt patterns and diving deep into the history of quilts. I still have my day job, but someday… someday I'll be full time at this quilty thing. I promise. Until that day, I'll just be hella tired.
You can find the link to my first pattern, Churned Up, over on my Patterns tab. My next pattern, Prescott Road, is in the works with a release targeted for this summer. Snippets of Prescott Road are on my Instagram feed. Two other patterns are brewing for release soon after that. If you'd like to stay plugged into what's happening at The Quilt District, pop to the right-side of this page and enter your email address. I'll never spam you; you'll just get notified when I post.
I hope I'll see you around here (or on Instagram) sometimes. In the meantime… I have a question for you. Would you answer it in the comments below before popping out to visit the other bloggers and enter the giveaway?
How did YOU start on your quilting journey?
All My Quilty Love,
~ Tara